CLEANING WITH MEANING
Professional cleanings are a necessity for your overall health. Our staff is committed to making your experience individualized, informative, comfortable, efficient, and effective.
During a professional dental cleaning you can expect us to: 
Complete a comprehensive exam of your teeth and gums
Take low-radiation, digital X-rays when necessary
Remove tartar, plaque, and stains that accumulate between visits
Polish your teeth for a brighter smile
Evaluate for tooth decay and disease
Inspect current dental work and appliances including fillings, crowns, dentures, retainers, and mouthguards
Screen for oral cancer of the mouth, face, and neck
Evaluate your gum tissue for early periodontal disease
Clearly explain your treatment options
Provide individualized instructions for prevention and care
Our hygenists are highly skilled and knowledgeable. They provide high-quality, professional cleaning tailored to help you conserve both time and money. Because there are multiple types of cleaning based on a patient's current oral health condition, our team will help you decide which type of cleaning is best for your overall health.
We understand how busy life can be and will work with you to provide convenient dental care. Whether you receive dental benefits from your employer, or you have purchased a plan for yourself, we will also help you understand how to best utilize those benefits to reduce your out-of-pocket costs. By staying on schedule with your cleaning appointments and following through with your home care, you can save money, and potentially avoid costly, complex, and extensive dental procedures.
---
PERIODONTAL DISEASE
A BEAUTIFUL SMILE BEGINS WITH HEALTHY GUMS
At North Spring Dental we are committed to preventing disease–or if dental disease has already developed–restoring your gums to a healthy state. Gum disease, also known as periodontal disease, is the major cause of adult tooth loss in the U.S.  Still, many people are tempted to ignore the condition and miss the opportunity to treat gum disease in its earliest stages. The choice is yours. Do more now, or risk further disease that may lead to more advanced stages requiring painful and expensive surgery.
According to statistics, over 64 million American adults suffer from mild to severe periodontal disease. If you are one of them, we offer several non-surgical techniques to help you fight it. Many people are unaware of the unhealthy condition of their gums and the overall effect it can have on the rest of their body. Left untreated, harmful oral bacteria can lead to tooth loss and increased health risks such as heart attack and stroke.
THE MOUTH BODY CONNECTION
The mouth is home to hundreds of different types of bacteria, and while many of these are part of a healthy mouth, some specific bacteria are linked to increased health risks. An unhealthy mouth can increase the risk of stroke, heart attack, certain types of cancer, and arthritis.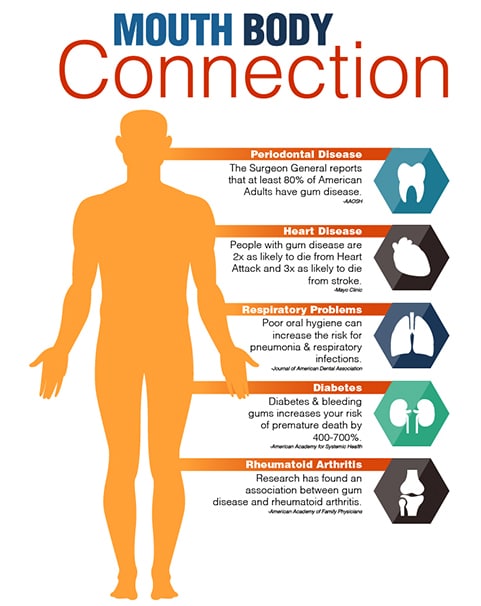 You might be at risk if you notice the following: 
Red or inflamed gums
Bleeding during brushing
Sensitive or sore gums
Teeth that feel loose
Bad breath
Packed food between teeth
Several years have passed without a dental cleaning
Treatment can include scaling and root planing–we can administer a local anesthetic to make you comfortable. When needed, we can place a localized antibiotic like Arestin®, educate you on additional home care techniques, incorporate into your home care routine rinses to care for your gums, or have you come back more frequently for specialized cleanings. We work with you to find a combined approach to attack the disease you have and keep it at bay.
If you are experiencing sore, painful, or bleeding gums, please give our office a call today! The sooner we can identify and begin treatment, the better. Experience the difference at NSD where our hygienists give you so much more than just a cleaning. Contact our office today to schedule your cleaning with meaning.
---
SEAL OUT SUGAR BUGS
SEAL CAVITIES BEFORE THEY BEGIN
Sealants are the most under-utilized, cost-effective means of preventing tooth decay! Dental sealants are a thin, plastic coating that is painted on the chewing surfaces of your back teeth, known as molars. Because our back teeth are hard to reach and difficult to clean, especially for children, they are prone to decay. Sealants help protect these vulnerable areas by "sealing out sugar bugs." They are bonded onto your teeth forming a comfortable and sturdy defense. According to the American Academy of Pediatric Dentistry, sealants can reduce cavities in children by 86 percent. Due to their many benefits we highly recommend them for young children and teenagers.
Benefits of dental sealants include:
They help prevent decay from developing.
They are a durable material that can last for years.
They provide a smooth surface for better cleaning.
They help protect teeth against debris buildup in hard to reach areas.
Dental sealants are affordable, applied in minutes, and are painless. Call our office today to schedule a sealant appointment.