Orthodontics
North Spring Dental is your one stop shop for dental care all under one roof. We have been offering orthodontics since Dr. Ahmed began here. Dr. Ahmed holds her Achievement status with AOS – the American Orthodontic Society. She has, and continues to, incorporate current techniques into her orthodontic treatment. Dr. Ahmed has completed numerous clinical hours in craniofacial orthopedics, occlusion, and Invisalign. Her clinical expertise and passion for this area of dentistry is why we pay particular attention to the jaws, mouth, facial growth and development, and their overall relation to your teeth. A beautiful smile doesn't stop at your teeth.
---
Traditional Braces
Traditional braces are metal brackets placed on teeth to achieve a straight, beautiful smile. Metal braces today are smaller, flatter, and more comfortable than the ones in the past. They are made of stainless steel or titanium metal. By placing a constant, gentle force in a carefully controlled direction, braces slowly move teeth to their correct position. Wires are also less noticeable than they used to be, and the latest materials move teeth faster and with less discomfort to patients.
---
The three parts to braces: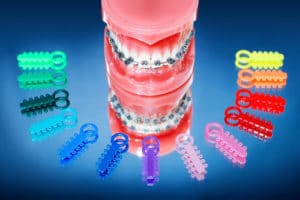 Bracket: A bracket is placed on each tooth in the arch using special glue to bond them to the surface.
Archwire: The archwire is placed into the bracket and applies pressure to the teeth to help guide them into place.
Ligature Elastics: Elastics are the colored rubber bands that are placed around each bracket to help hold the archwire in place. They also help provide the pressure and force that move the teeth.
Rubber Band Elastics:  Are worn by the patient with instructions to correct the bite.
At each appointment we will change either the elastic rubber bands or the wires, as needed, to help move and guide your teeth in the proper direction. Due to our highly skilled doctors and staff, we offer a variety of techniques to help you obtain the perfect smile you've always wanted.