Congratulations! You are done with braces – now what?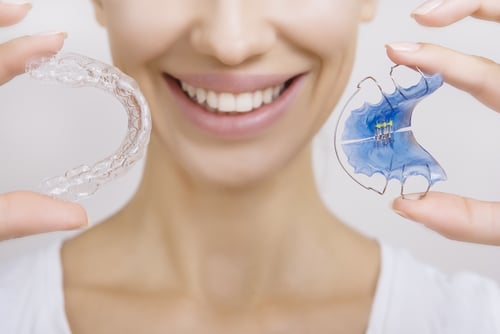 Retainers are a lifetime commitment. For the first six months after your treatment is complete, we ask that you wear your upper retainer full time (22 hours per day). The same holds true for the lower unless you have a lower bonded/fixed retainer. After six months, you may transition to night-time wear only. One year post treatment, nights may be skipped, however we recommend wearing your retainer at least 2-3 nights a week for as long as you would like your teeth stay straight! If the retainer feels tight, we encourage you to increase the time you wear your retainer. A feeling of tightness indicates your teeth are shifting. Call our office for an appointment if this happens.
Cold water with a toothbrush and toothpaste may be used to clean your retainer. To avoid the cost of replacement, please do not place your retainers in hot water. Hot water, warm objects (i.e. curling iron, dish washer) or retainers left in a hot car, may warp your retainer causing the need for replacement.
Your fixed bonded retainer must be flossed daily using floss threaders. Water Piks are great adjunct that we highly recommend. Flossing is still the best method to clean in between the teeth. If you notice a pad of bonding loose, don't delay and call our office for an appointment to repair. The longer you wait and put off repairing your retainer the higher the likelihood that your teeth can move. At times the only way to correct these movements is to go back into braces.
---
Retainer Insurance
North Spring Dental is also happy to announce our Retainer Insurance Program! NSD retainer insurance is only available to orthodontic patients of our practice. Upon completion of your orthodontic treatment with us, you will have the option to purchase insurance. Retainer insurance covers the patient for a number of years with a minimal co-payment per retainer. At the expiration of your insurance there is a grace period to renew. It is YOUR responsibility to inform us to renew your coverage upon expiration. If you wish to decline renewal, we will have you complete a Retainer Insurance Refusal.
---
Whitening
As a part of your orthodontic treatment you will receive a complimentary syringe of whitening! The gel can be used with your Invisalign aligners and/or your removable Essix retainer. A lower bleaching tray can be purchased along with an additional syringe of whitening if you have a Bonded Lower Retainer. All additional whitening syringes may be purchased at the office.