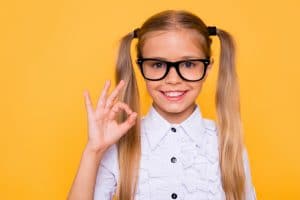 Caring for your child's smile means guiding a grin that is in the process of growing, changing, and developing and that will be doing so for many years! From the time your child is born until your kiddo becomes an adult, there's quite a lot to consider. Teeth and gums require guidance from a team of dental professionals, they need you for dental care at home, and all of this needs to work in such a way that your child develops not only wonderful habits but also reaches adulthood with a healthy grin! Join us for a moment as we explain how our Springfield, OH team offers all the guidance you and your child will need.
#1: With Gentle, Pediatric Preventive Care
To begin, this is the basis of all healthy smiles, of course: It's preventive dental care! With that said, we remind you that one of the ways we make this a breeze for you and your child is that we offer pediatric services. Your child is new to the world of dental care! It takes a special approach, extra compassion, treatments geared toward growing children's oral health needs, and help with developing excellent habits! We are happy to offer all that your little one (or teen) needs!
#2: With Restorative Care, When Needed
Remember, even if you're very detail-oriented and you're doing your absolute best for your child in terms of dental care, sometimes things change. Your child might fall and break a tooth. A cavity may form. Whatever type of damage impacts your kiddo's smile, we are here to offer the complete array of restorative services necessary to set things right, as we restore oral health and get your child's smile looking like it did before!
#3: With Lots Of Advice For You Both!
Remember, it's better to come in for the advice that you need from our team than to try to look things up online or to ask around. After all, we happen to specialize in smile care! We are also here to offer you any and all guidance you need in order to best guide your child with dental care at home, to help you figure out how to confidently select professional care for your child, and more! If you have questions, bring them to us! We would love to help.
#4: With Comfortable, Comprehensive Orthodontics!
If your child's smile does not develop in a beautifully aligned fashion, there's no need to worry. Our practice provides a truly diverse and complete selection of orthodontic care solutions (digital impressions included!), so we can guide your child's smile into alignment with ease.
Bring Your Child In For A Successful Smile Journey
Become consistent with the dental care your child receives from our team, so you give us the opportunity to guide your child's smile and oral health throughout childhood and beyond! Start with a checkup soon! Ready for your checkup in Springfield, OH? Schedule your appointment with North Spring Dental today by calling 937.399.3800.