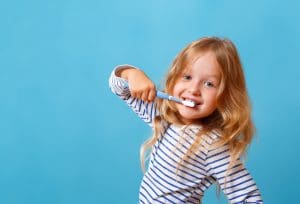 Healthy teeth don't just happen on their own. While genetics play a role in how likely you are to experience cavity formation, you still have control over your teeth. Brushing and flossing your teeth regularly can deter cavities and gum disease. When did you start brushing and flossing your teeth? It was probably at an early age — you may not even remember. You need to begin caring for your child's teeth as soon as they erupt. Building positive habits early leads to great smiles later in life. Here are some of the basics of pediatric dental care.
Start Caring for Your Child's Teeth When They Erupt
It's a monumental parenthood moment when your child gets their first tooth. It's also an important moment in the life of your child's teeth. You should be brushing your child's teeth (or tooth) as soon as they erupt. You should also begin teaching your child how to brush their teeth so that they can begin caring for their own oral health as they get older. Placing an importance on brushing and flossing will help your child develop positive oral health habits that can serve them as they get older. Once your child starts to get their teeth, you should also schedule a dentist appointment for them.
As Your Child's Teeth Grow, Their Dentist Can Protect Them
Your child's teeth will eventually fall out to make way for adult teeth, but it's still vital that they care for their baby teeth. Your pediatric dentist can help. A good pediatric dentist will not only provide great care for your child's teeth, but they will also help to educate your child on proper oral hygiene. When your child understands the value of their own oral health and why they need to brush and floss every day, they'll be more likely to do so. Your pediatric dentist can also provide additional preventive treatments like sealants and fluoride rinse to keep cavities away.
If Your Child Has a Dental Emergency, Reach Out to Your Dentist
Dental emergencies can happen to anyone. If your child experiences a dental emergency related to a fall or a sports injury, you should contact their dentist right away. Often times, dentist's can rearrange their schedule to accommodate emergency appointments. When it comes to a broken tooth, or even a tooth that has been knocked out, seeing your dentist quickly leads to a better end result. It's a good idea to find out if your child's dentist (and your dentist, for that matter) has the ability to schedule emergency appointments.
ABOUT YOUR SPRINGFIELD, OH DENTIST:
Dr. Afshan Ahmed and the team at North Spring Dental welcome you and your family to a different kind of dental care experience. Our practice is one in which you can rest assured that you will enjoy a relaxing, personalized visit. To find out more about our comprehensive general, orthodontic, and family dentistry services, call our dental office in Springfield, OH today at 937-399-3800.