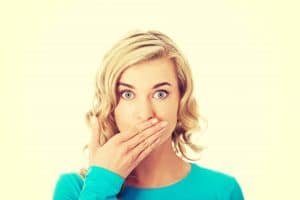 Maybe you bite down into something and you realize that you damaged your full or partial denture. Perhaps you don't remember damaging it but you have begun to notice that it just doesn't fit the way it used to. No matter what's happening, if you know something isn't quite right with your prosthetic, our Springfield, OH team wants you to remember that problems are always red flags that should send you toward our practice! Give us a call, set up a dental visit with us, and you'll quickly be back home with a well-fitting denture and the comfortable, functional, lovely smile you deserve.
Call When Your Denture Doesn't Fit
You may or may not realize right away that your denture doesn't fit quite right or that it's a bit damaged. Our advice to you is to remember that when it suddenly seems like you can't get your denture to sit the way it used to, it tends to move more, it's rubbing or is causing you any type of frustration, etc., these are signs that it's time to schedule a dental checkup with us just in case! This may be the result of a denture that needs to be repaired or replaced. Call us!
See Us For Same Day Denture Repair
Do you tend to cringe at the thought of requiring a repair for your full or partial denture because you don't want to have to go without one? Remember the following: We offer same day denture repair! We know that you need your smile both for its function and for your appearance, so don't delay if you require care for your prosthetic. Contact us for immediate help!
See Us When You Want Improved Stability
Patients often feel that once they have selected full or partial dentures that the stability they experience is as good as it's going to get. However, that's not necessarily the case. For traditionally supported dentures, remember that there are special adhesives that can assist you with attaining improved stability for daily use. Then, of course, you may also consider visiting us to discuss changing to implant-retained prosthetics, which give you amazing stability by giving your prosthetic support that's anchored all the way down into your jaw tissue.
Repair Dentures With Our Team
Call us when you think something might be wrong with your denture, whether due to obvious damage or otherwise. Set up a visit with our team just as soon as you can, so we may fix the issue and rescue your grin! Ready for your checkup in Springfield, OH? Schedule your appointment with North Spring Dental today by calling 937.399.3800.