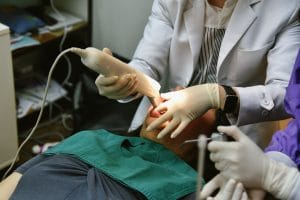 Dental technology innovations are designed to create a better experience for patients by increasing the accuracy of instruments used by dentists. When oral health professionals have better tools, they can make things easier for their patients. One of the most helpful innovations in dentistry has been the use of digital impressions. When your dentist needs to fabricate a dental crown or implant or pontic, they need to take an impression of your mouth. The more accurate the impression, the better the fit of the prosthetic will be. Digital impressions are the most accurate way to get these impressions.
Digital Impressions Create a Better Experience Than Putty
The traditional method for taking dental impressions was less-than-ideal for patients. Using a special dental putty, your dentist would take molds of your teeth. You'd have to hold your breath or swallow at specific times during this process. The putty was messy and the experience was uncomfortable for patients. Digital impressions are easier, faster, and more accurate. Using an imaging system, your oral health professional can scan your teeth and gums to build a complete 3D model of your mouth. Using this precise image, your dentist can then fabricate a dental crown or prosthetic to spec.
Your Digital Impressions Are Ready Right Away
During the 3D imaging process, you don't have to hold completely still. If you need to pause the process to ask a question, take a breath, or even sneeze, you can do so! As your oral health professional is creating the image with a scanner, it's being rendered and displayed in real time on a monitor nearby. That means that as soon as they're done scanning, you have a complete image right away. Your dentist can use this model not only to measure your teeth and mouth, but also to project what treatment outcomes might look like.
Digital Impressions Are Useful for a Variety of Treatments
Any treatment that seeks to augment the shape of your teeth or mouth can be aided by digital impressions. If you need a dental crown to cap a damaged tooth, digital impressions can ensure that the crown fits comfortably next to the other teeth. If you're receiving a dental implant to replace a missing tooth, digital impressions will guide your dentist to place the implant in the correct position and at the correct angle.
North Spring Dental Is a Digital Impression Practice
We value our patients' comfort and experience when they visit our dentistry, because we know that quality care makes it easier to attend future appointments and receive the care they need. We use an iTero Element Intraoral Scanner to create digital impressions. 
ABOUT YOUR SPRINGFIELD, OH DENTIST:
Dr. Afshan Ahmed and the team at North Spring Dental welcome you and your family to a different kind of dental care experience. Our practice is one in which you can rest assured that you will enjoy a relaxing, personalized visit. To find out more about our comprehensive general, orthodontic, and family dentistry services, call our dental office in Springfield, OH today at 937-399-3800.