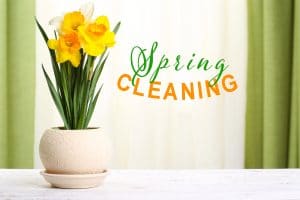 Have you gotten into spring cleaning mode just yet? As you're doing your best to gather up motivation for all things sorting, organizing, cleaning, and more, you may wish to use some of your energy and guide it toward cleaning up your dental care, too! If you think something isn't quite on track, then now is a wonderful opportunity to sit down, think through the details, straighten up your habits, see us, and more. Need a little guidance? Take a few directions to heart!
#1: Take A Glance At Your Calendar
Have you been coming in two times each year? If it's been longer than six months, call us to set up your next visit ASAP. If you're still within the "every six months" period but you have yet to schedule your next routine cleaning and checkup, contact us! Your spring cleaning should remind you that your smile needs cleanings with us (and exams) as suggested to remain healthy.
#2: Review Your Home Efforts
As you're dusting and polishing and the like, take a look around your bathroom sink. While literally cleaning your bathroom is always beneficial, you may also want to to spend some time asking yourself whether you have what you need and if you're doing what is required of you during brushing and flossing. If not, there's no time like right now to make dental care changes!
#3: Make A List And Check It Off
Now that you've taken a look at your calendar and know whether you need to schedule some visits with us, this is one thing to place on your dental care list. Perhaps you have some questions for us … add them to your list, too. Now, if you are short on certain dental hygiene supplies, add them to your list. Check tasks off as you go.
Spring Clean Your Dental Care Habits With Our Help
If you think your smile care is not exactly where it should be, then take some time to meet with us this spring, so we may help you and your grin! Ready for your checkup in Springfield, OH? Schedule your appointment with North Spring Dental today by calling 937.399.3800.