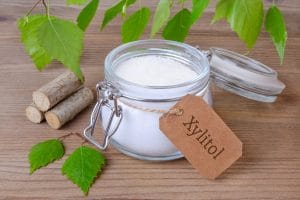 If you frequent health food or gourmet stores, you have friends who are just as interested as you are in protecting your oral health, or you're just a bit of a fanatic when it comes to learning about natural ingredients, then xylitol may have crossed your path! While this visually confounding word may have piqued your interest, that doesn't mean you're very well aware just yet about why it happens to be a potentially beneficial ingredient for your smile. You might also still feel a bit curious about how to say it. Fortunately, our Springfield, OH team is here to help you with all of the above (and then some!).
How To Say It?
When a word begins with an "X" it can often lead to some confusion regarding pronunciation. Good news: This one's easy! Remember that the x creates a z-sound in this case, which means xylitol is pronounced zahy-li-tol. Easy enough!
What Is It?
Xylitol is a natural sweetener. You will find that it is present in many products in the aforementioned health food and gourmet food stores and is even found in some dental hygiene items! Fortunately, unlike table sugar that encourages oral health problems like cavities (or artificial sugars that aren't necessarily healthy), xylitol is both natural and okay for your smile! Here's what you should know:
It tastes nice and sweet
Bacteria don't love it the way they do sugar
It may actually be able to help stop the plaque in your smile from sticking to teeth, which is extremely advantageous!
Who Is It Safe For?
Xylitol is a good solution when you want something sweet whether you're a child, a teen, or an adult! So, the next time your kiddos want sugarless chewing gum or a soda, remember to consider this sweetener! They will love it and you'll feel relaxed knowing you're taking as many measures as possible to protect their oral health and your own.
In What Types Of Foods Might I Find It?
You will generally find xylitol as an added ingredient in foods and other products that you hope taste sweet! You can find it in energy bars, baked goods, sugarless gum, sodas, candies, other beverages, and more. Take a look at the ingredient lists on packages and keep an eye out! Our team reminds you that adding it to your daily rotation is a breeze.
Talk With Us About Avoiding Sugar For Smile Protection
If you have a sweet tooth and find that, though you want to give up sugar, you don't necessarily want to give up sweets, talk with us about alternatives and solutions! Ready for your checkup in Springfield, OH? Schedule your appointment with North Spring Dental today by calling 937.399.3800.