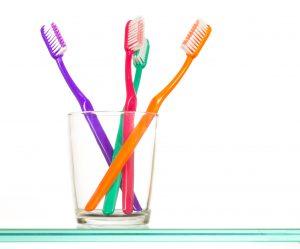 If you're brushing the way we suggest, you're doing it frequently enough, and you're thorough, then your dental hygiene should be working out just fine, right? Especially if you're remembering that you need to floss, as well, you think to yourself! However, there's more to effective brushing than just going through the correct motions and spending enough time (two minutes every session) as you do. If you don't have a good, effective brush, your efforts may not be as beneficial as you might hope! Let's ensure this isn't the case by offering some important reminders regarding toothbrush details.
About Your Bristles
You will hear this every time you ask a dental professional for an opinion on which type of bristles your toothbrush should have: Soft! Remember that even though your teeth are tough and your gums are resilient, the care they require is gentle in nature.
Keep The Size In Mind
Your dental hygiene is only going to be effective as you're brushing if you can actually hold onto your brush, navigate throughout your mouth, and reach the head of your brush around and behind (and in front) of all teeth. Check out the size of your toothbrush to ensure it checks off all the boxes on your list of requirements.
What's The ADA Got To Say About It?
If the American Dental Association offers a toothbrush its official Seal of Acceptance, then you're purchasing a product backed by solid evidence it's going to work! This is certainly a good place to start for excellent dental hygiene.
Practice Your Best Prevention With Your Best Brush
Find out more when you aren't sure about the products you should be using, so you can be certain your brush, floss, and more are just right. Ready for your checkup in Springfield, OH? Schedule your appointment with North Spring Dental today by calling 937.399.3800.